I just came from putting sunflowers on the newly dug grave of my horse, Kid. He's buried in the field behind my house which borders the farm where he lived.   I'm glad to have him here, in a place where we used to ride together. After all, he's been a part of my life for the past 21 years-  my friend through so many hard times in my life: always there, always loving, always loyal.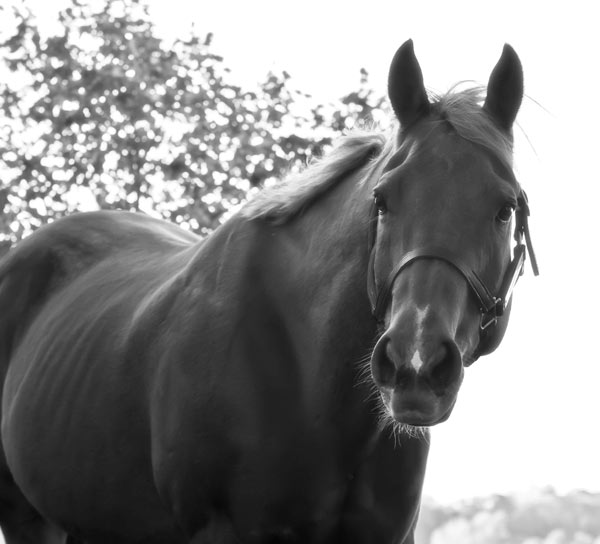 My Sundown Kid was born near Dallas, Texas the year I graduated from college.  Two years later, when I moved to Waco, Texas for my television career- I found him by accident.  I always wanted my own show horse having shown other people's horses for years. But show horses are expensive so I opted to buy a baby out of an Appaloosa stud I really liked named Sundown Q (who, come to think of it, also died of colic at a fairly young age).  When I got to the ranch to pick out a baby, I ran across Kid in his stall in the barn. His trainer said he was the best bargain in the farm and he was.  They sold him for less than the babies I was looking at and he had been World Reserve Champion in 2 year old snaffle.  Strange, I thought, but later discovered his tail had been nerved and not regained full function and he was also a little cuckoo in the head…  the first time I tried to ride him he reared up and ran away. Hard to believe if you knew my horse, but when I got him he didn't like people to touch him.  My best friend in Texas and the finest horsewoman I've ever known, Linda Green, changed that by turning him out for a month and giving him daily "love sessions" with the kids at her training stable. They petted him, hugged and kissed him until he ran to the fence when anyone came near.  And that was the Kid we all grew to love.
I mentioned that I wanted a show horse and that is exactly what I got. A champion show horse. Kid and I traveled the southwest and won shows almost everywhere we went.  Kid was an unusual horse in that he would show in whatever class I happened to pick that day. He just did whatever I asked.  Whether it was western pleasure, trail, western riding, showmanship, english equitation, hunter hack, green jumper- he had ribbons and trophies in everything.  But despite his breeding in western pleasure,  he most excelled at jumping. In 1992 he placed third at the ApHC World Championship Show in Green Jumper. He would have won if he hadn't put one extra step in…darn it..  he was tired having shown in 5 other classes that week.  We won a buckle at the Fort Worth Stock Show for the all-around Novice and placed top-ten at the world shows over a three year period in 6 different categories. I don't say this to brag because it wasn't me- I was just holding the reins. It was Kid- he refused to do anything but his best every day of his life. And that's the truth. He never refused a jump from the moment I took him over the first one. Because if I asked him to go over a fence or over a creek or over bushes, he never questioned it. (although he always did spook at round bales- he thought for sure something scary lived behind round bales!)  One time he jumped out of his pasture when I was riding the little black stud at the farm. That's a true story! He trotted up to me like "what the heck are you doing on another horse?"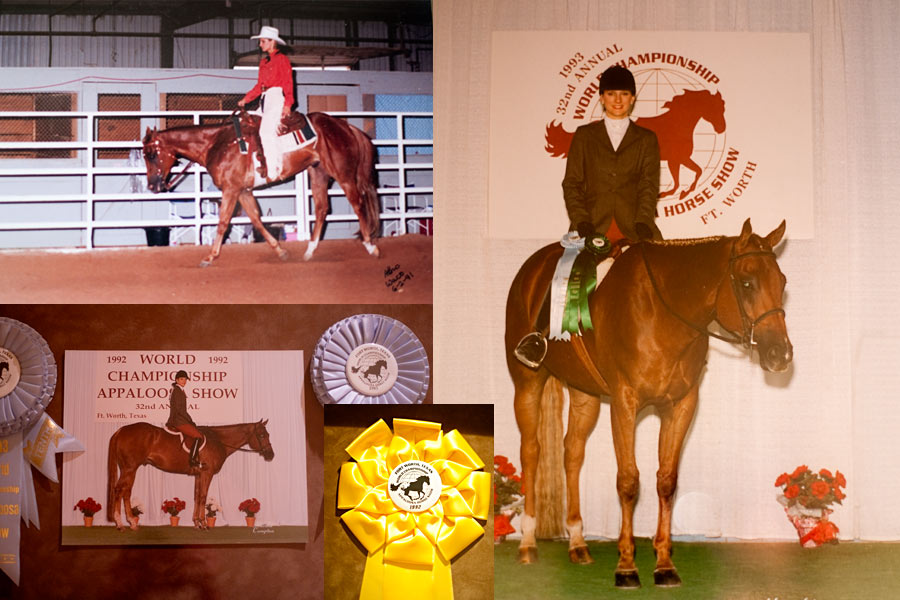 He was my friend. My friend who was there for so many heart-breaks and always knew how to console me. When my dear friend Linda who helped me with Kid so many years died of breast cancer in 1996,  I spent countless hours mourning her death in his stall. When she died I had moved from Texas to Kentucky and he was the only connection to her that I had. A few times when I was sitting in his stall and crying he actually laid down with me and put his head in my lap. I don't think I'll ever know another horse with that level of compassion. He really, truly knew I was sad and got down to my level to help- even though it was against his basic instinct as a prey animal. Most horses won't do that but Kid was special.
After I moved to Kentucky, I became busy with my job at WHAS and with my son, Jake, so showing Kid fell by the wayside. But Jake rode him for the first time before he was even a year old. (He's now 13)  Kidder loved children- his ears are nearly always turned back in pictures with children because he had a gentle, passive, loving stance when they were near. He almost tip-toed when a little child would get on him. Head down, gentle steps, to make sure they weren't scared… it was like he was afraid to drop them.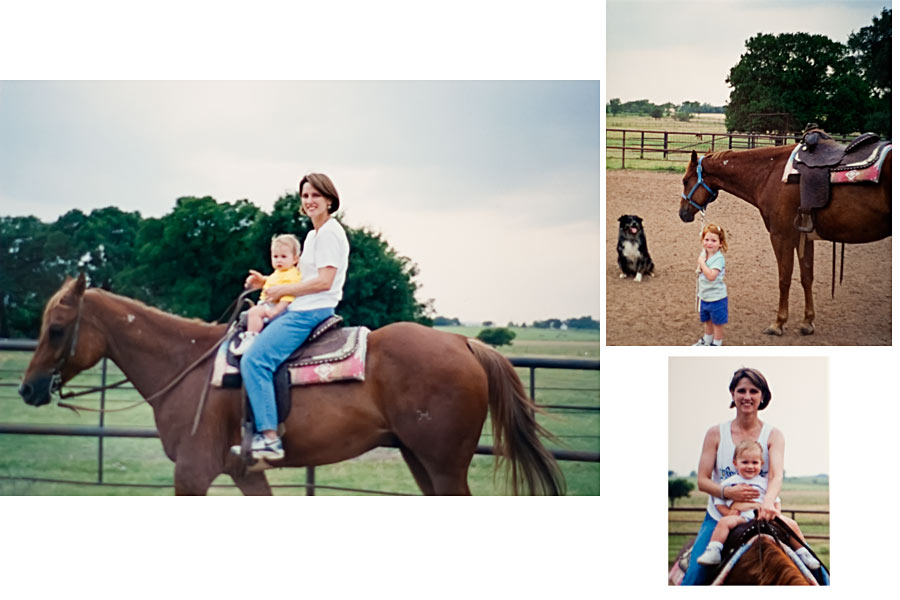 This is a picture of Jake's first horse show with Kid as his mount. He's holding tightly to his blue ribbon!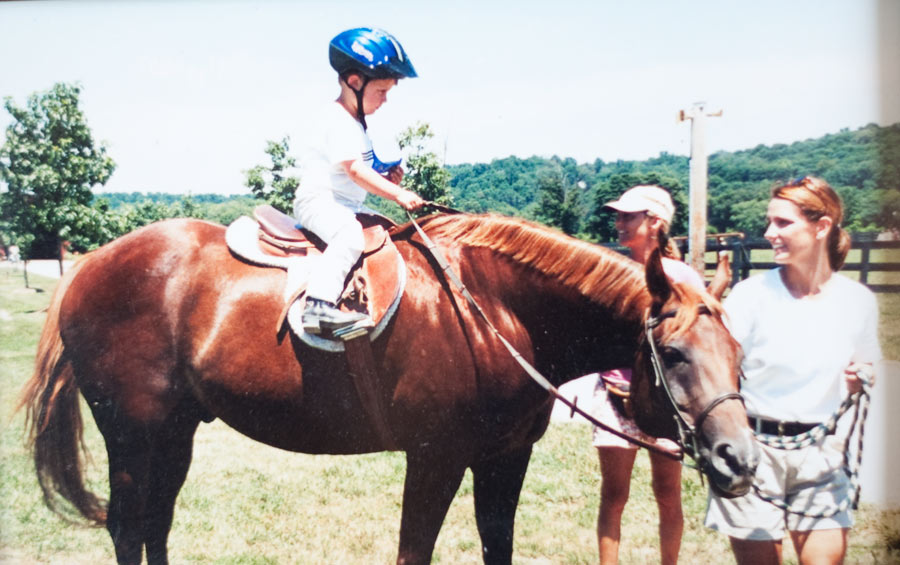 Kid also was one of the most gentle horses at his farm- Stoneplace Stables. Ask anyone. He never pinned his ears- not at people or other horses, or even little dogs! ( He and my corgi Henry were buds- and Kid also loved the barn cats)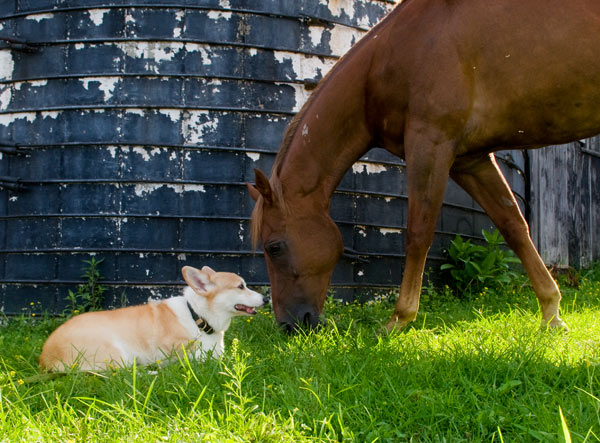 Three weeks ago, Kid colicked in the field at Stoneplace,  A teenager noticed he was pawing at the gate and rollling and called the farm manager who contacted me as I was coming from the UL v UK game.
We rushed Kid to Equine Services in Simpsonville where Dr. Scott Bennett performed surgery. This is what he found. Two fatty tumors about the size of softballs that had strangled 12 feet of Kid's bowel.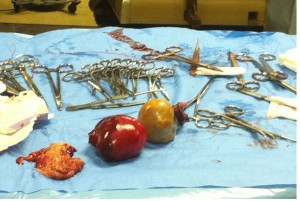 But they were able to save the intestine instead of trying a resection which would have been extremely difficult at Kid's age.  He lived through the surgery and we were all very optimistic he'd fully recover.
I had no idea what a long road we would have.  The roller coaster ride of the past three weeks has been excruciating. Completely excruciating.  I took quite a few pictures in the hospital but I'm not going to post them. I thought, when he got better, I'd write a post about the details of recovering from colic surgery. But he didn't recover so I'm skipping the details. I will show you a shot taken on one of his good days. He had a lot of good days which made the end so hard to bear. Every time he would move forward he'd take a step back but then move forward again. Until he didn't.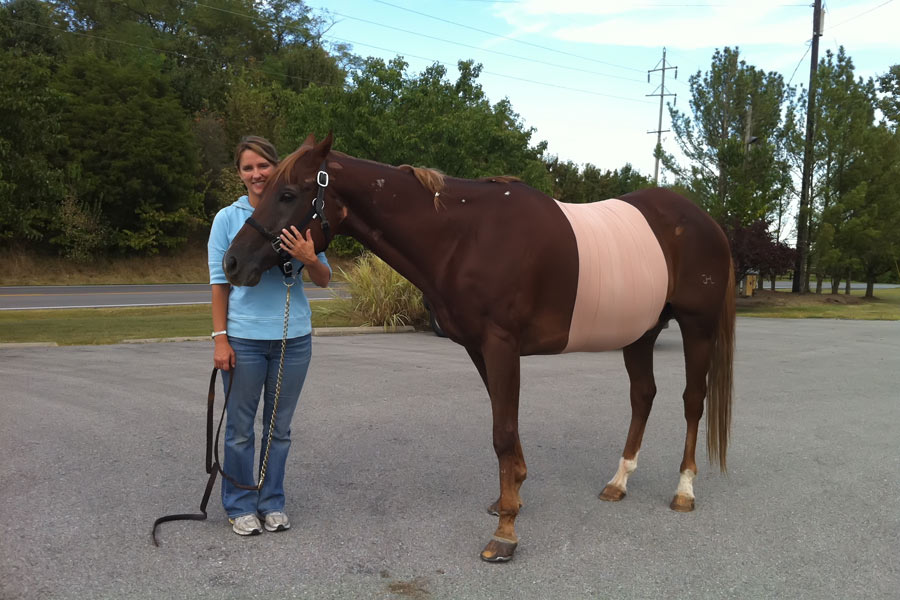 I would be remiss in not praising the staff at Equine Services. If you should ever have an emergency and you live around Louisville or Lexington, don't hesitate to take your horse there. I wish there were a place where humans could go to get that level of kind, loving care.   The two vets, Dr. Bennett and Dr. Griffin, are fantastic. The interns, Lane and Lucinda were beyond amazing with their care and concern and their staff is just top notch in every way.  Much of the staff shed tears over Kid's sudden decline. They were so vested in his recovery- walking him five to ten times a day and spending hours in his stall petting him and talking to him.  It helps to know he was as comfortable as possible during this terrible ordeal. And when the time came that they couldn't keep him comfortable they ended it quickly and quietly.  He didn't suffer.
I have another wonderful horse- my reiner Max- and I've had other horses in the past and will have more horses in the future, I'm sure.
But there will only be one Kid. One horse who brought me through so many times of joy and pain in my life with his loving ways and those beautiful, warm, gentle brown eyes. I will love him forever.