It's been a dream of mine to climb Mt. Kilimanjaro for about 10 years, after I first saw the mountain during a safari trip to Africa with my Mom. In the flat African plain, you can see Mount Kilimanjaro towering above the terrain in both Kenya and Tanzania. It is a gorgeous mountain and I have not been able to forget it for the past decade.
At 19,457 feet, Kilimanjaro is the tallest free-standing mountain in the world. That means when you get to the top you are on a peak- not in a mountain range as you are at the top of Mount Everest or K2. ( not that I will ever see the top of either of those mountains!) So the view at the top is supposed to be one of the most spectacular in the world.   At the summit, you are standing next to glaciers that are forecasted by some to be gone in as little as 5 years.
You must forget in this blog post that I am a photographer. I will later post some wildlife photos that I took with my "work" camera. But these were all taken with my Lumix LX3 pocket camera… and at times it was all I could do to push the button. Climbing a mountain is hard- and in during the toughest parts of the climb I did not have the energy to shoot photos. But I think I did capture most of the essence of what we did.
I do not even have a photo of Mt K. from the ground. February is not supposed to be the rainy season but we had cloud cover on most days and precipitation on many. We couldn't actually see the mountain until we started climbing. So I am "borrowing" a photo from my travel website (Ambercrombie and Kent) - as well as a diagram of the path we took.
[caption id="attachment_619" align="alignnone" width="472" caption="Mount Kilimanjaro in the distance. I cannot take credit for this lovely photograph!"]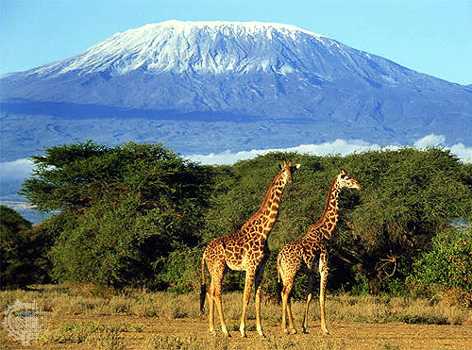 [/caption]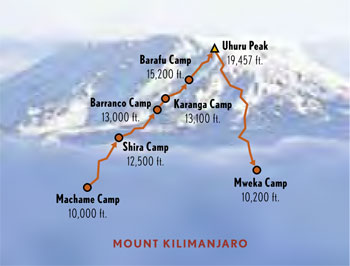 Our route is called the Machame Route- or the "Whiskey Route" to distinguish it from the "Coca Cola Route" which is supposed to be easier. The climb took 7 days and went through 5 temperate zones. We started at 90 degrees at the bottom and ended up below zero at the top.  So here we go….  a detailed description of my climb up this mountain.
DAY 1
I traveled with my friend Jennifer. I sort of talked her into this whole thing, so I was really hoping it would go well for her!
Neither of us had ever climbed anything, really, so I think we were both a source of entertainment at the local hiking stores when we had to buy pretty much everything to go climb this huge mountain. We didn't even have boots- let alone packs and sleeping bags!
Here we are at the bottom of the mountain in our matching safari hats with the A&K logo. ( We had to wear them because we burned our ears on the practice hike the day before)    And the matching outfits are purely coincidental… but certainly made us look even more professional. Yep- the other hikers feared us. (or, more likely, feared for us!)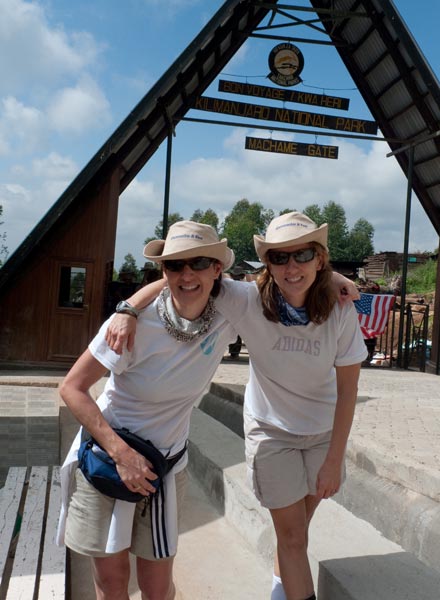 To make matters worse… I had a severe limp on this day.   In fact, I could barely walk.
This will come as no surprise to anyone who knows me…. but the morning we left for the mountain, I was wandering around in the dark in our hotel room and kicked the corner of something ( not sure what) and it jammed up underneath my pinky toe nail. It was bleeding and really painful, and I could barely put my hiking boot on! It continued to bother me through the entire trip- but was definitely the worst on the first day. So we laughed that I was being called "limping safari girl" from everyone on the ground and, in fact, my guide told me later that he had several people ask him if he was REALLY going to try to take me up the mountain when I could barely walk. But the good thing about going up? No pressure on the toes!!
These are a few photos of our first day. A beautiful and easy hike through a rain forest. It took about 6 hours and we ended up at our camp after dark. On the way, we saw a few monkeys and heard a lot of birds. We also caught our first glimpse of the porters who would be climbing with us. Amazing, amazing men- they carried loads up the mountain often on their heads. It made me feel like a complete wimp! We camped at 10,000 feet at the Machame Camp.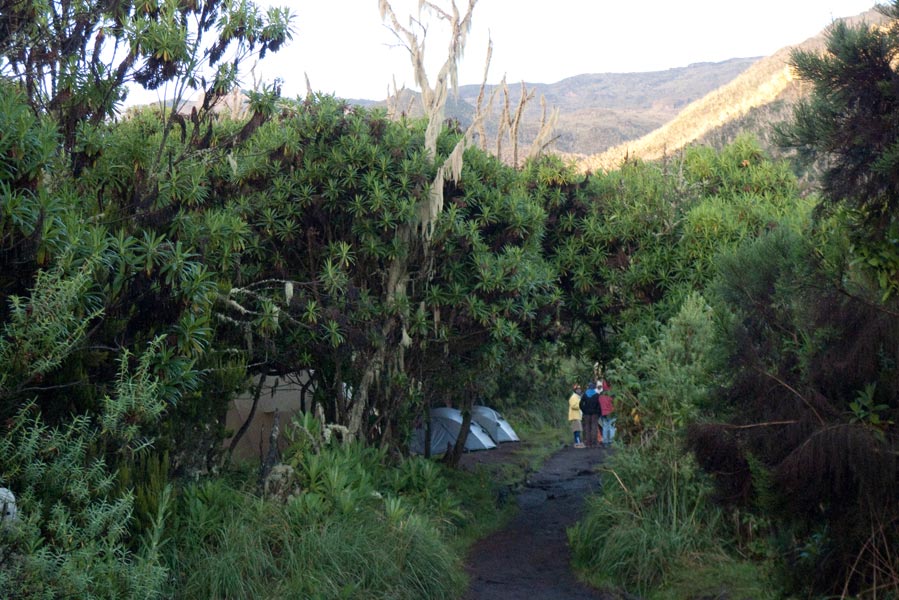 [caption id="attachment_561" align="alignnone" width="899" caption="Jennifer's glad to see we have cots!"]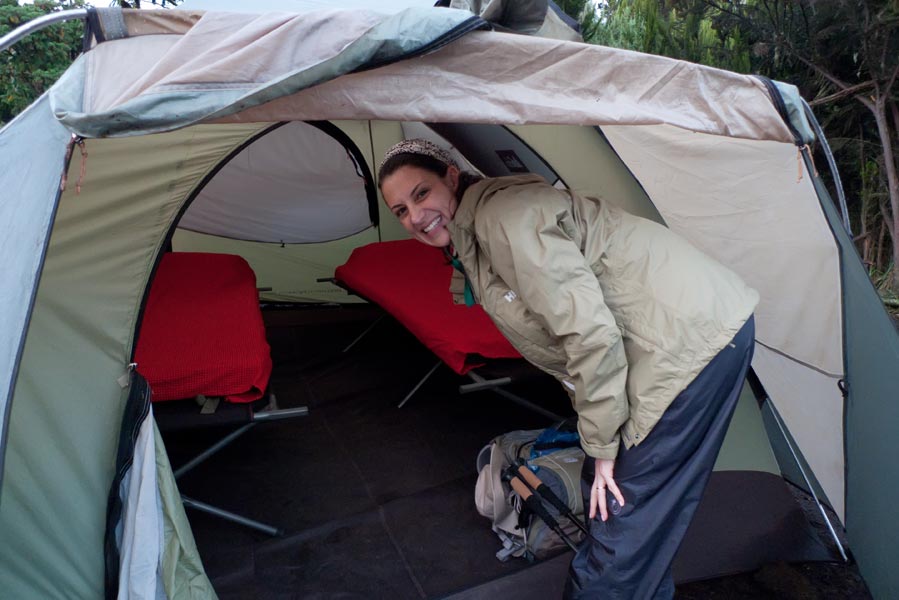 [/caption]
[caption id="attachment_587" align="alignnone" width="900" caption="Our group: Jose ( Spanish fitness guru), Jen (my willing accomplice and always positive companion), Rosanna (marathoner & climber extraordinaire), Kandi & Yong (father/daughter team), Dismass ( the BEST guide on the mountain!)"]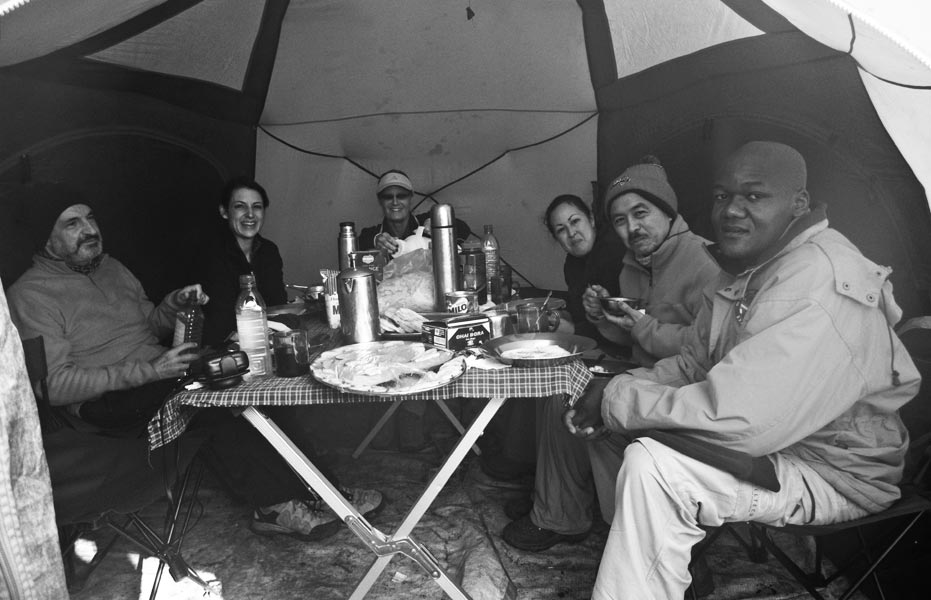 [/caption]
DAY 2
We took off early in the morning and hiked out of the rain forest into a savannah of tall grass and then into the lava rocks. Really spectacular!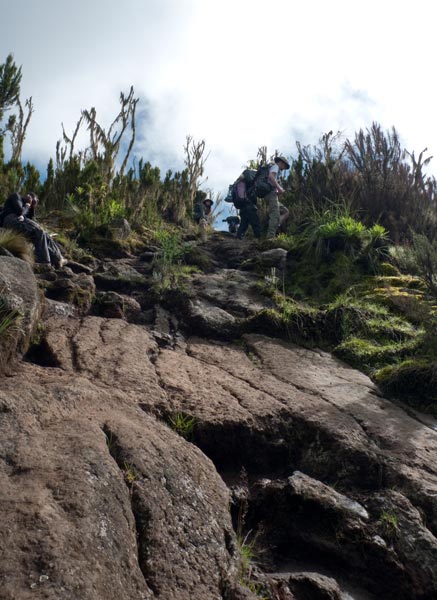 This was our first full day of hiking ( 7 hours). It was a steep slope we hiked but it was one of my favorites because the scenery was incredible and ever changing.
The only problem I encountered that day was dizziness and nausea right before lunch.  It concerned me a little because the elevation still reasonably low and I was worried about what was in store for me later.
Dismass, our guide, was convinced it wasn't just the altitude- but also that I wasn't eating enough to sustain the amount of exercise I was doing. So he told his assistant, Nico - who was serving our food-  to give me twice as much and he made me finish my plate before anyone could leave the table. Despite the fact I felt like a two year old, I will say his orders did work and I felt much better the next day. We came to learn Dismass was always right on in his diagnosis and treatment of our ailments.
There were six of us guided by Dismass- who has been to the summit of this mountain 198 times!
He was amazing with his knowledge of the mountain and altitude and it's effects on the body. He had a natural treatment for every problem: ginger tea and lemon water for nausea, deep breathing exercises for headaches, sleeping elevated to avoid pulmonary issues, no chemicals allowed.
We were discouraged from even eating energy bars or drinking electrolytes as he said they interfered with our appetite and could sometimes cause stomach upset.  I survived the entire trip on 6 Advil- and I took those for muscle cramps at night and one time for a really bad, persistent headache. We were only allowed to take a pill after we had tried everything else- and his treatments usually worked.
Dismass had three assistant guides: Noah, Barack and Gideon.
[caption id="attachment_573" align="alignnone" width="800" caption="Gideon, Barack, Dismass, and Noah"]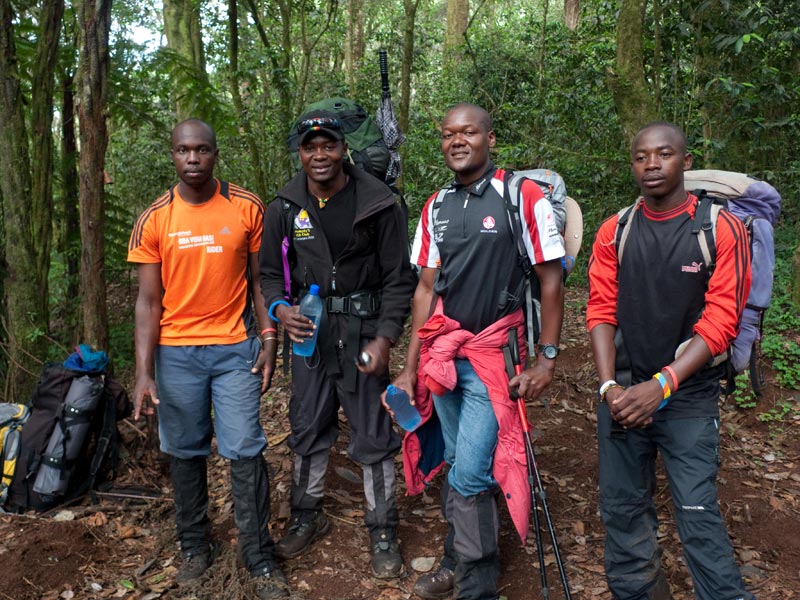 [/caption]
On this day.. we hiked about 7 hours to the Shira Camp at 12,500 feet. This camp gave us our first good views of the summit and our most beautiful sunset. Little did I know at the time there would be very few sunsets as the weather became very cloudy in later days.
It was also the first time I really noticed the stars. They are unbelievable and impossible to describe. It feels like you can touch them and there are millions of them in the sky. Gorgeous.
[caption id="attachment_564" align="alignnone" width="900" caption="The top of the mountain still seems far away"]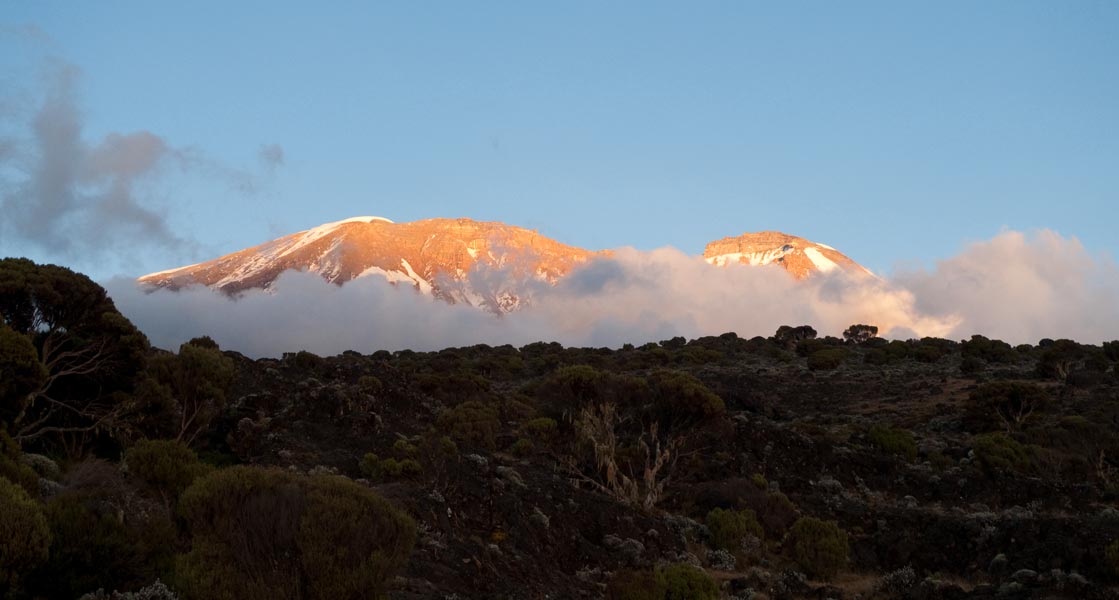 [/caption]

DAY 3
This day we left camp early in the morning for a very long hike of about 7.5 hours. This is where the altitude started to affect some of our group. A few hours after we started,  we saw a man getting very sick beside the trail. Needless to say, it was sobering to see and made us all a little fearful of what was ahead.
We hiked for lunch up to Lava Tower.  At 15,000 feet, this would be our highest point until Summit Day.
We spent about an hour there to acclimate and then went down to 13,000 ft. to Barranco Camp. By now, most of our group started to develop nausea and headaches. Lava Tower is higher than any point in the mainland of the US, so none of us had been exposed to this much altitude. (except Jose- who had climbed about three mountains before this!)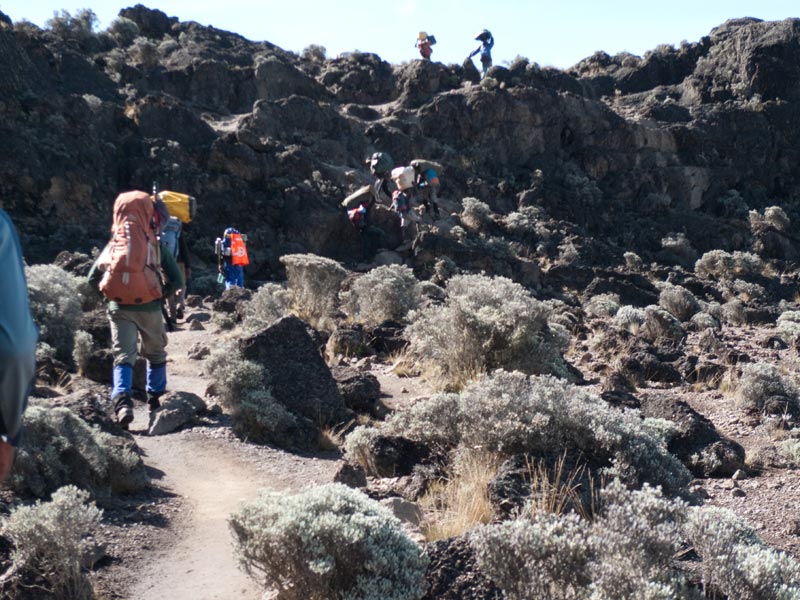 [caption id="attachment_576" align="alignnone" width="875" caption="Dismass on the long, barren trek to the Lava Tower"]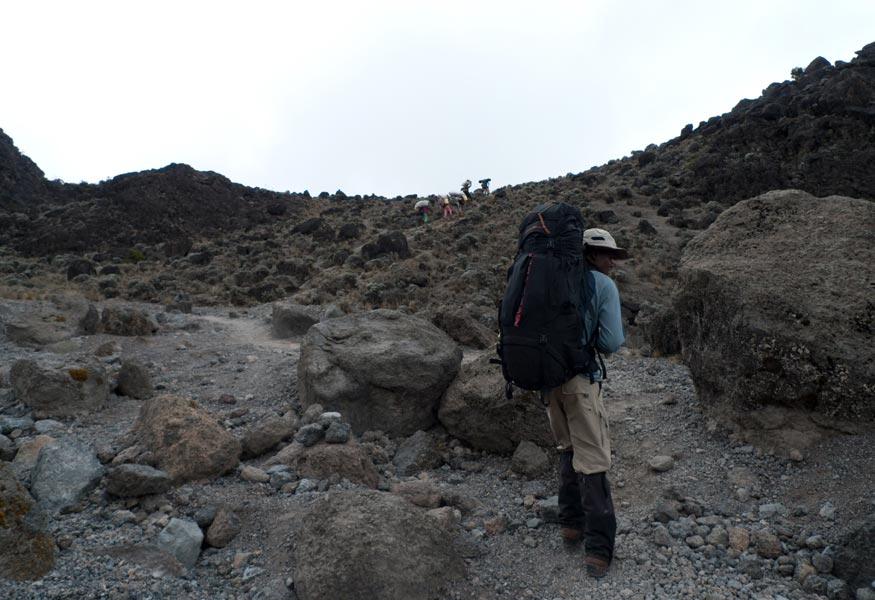 [/caption]
[caption id="attachment_577" align="alignnone" width="807" caption="Hanging out at Lava Tower- above the clouds- adjusting to the altitude"]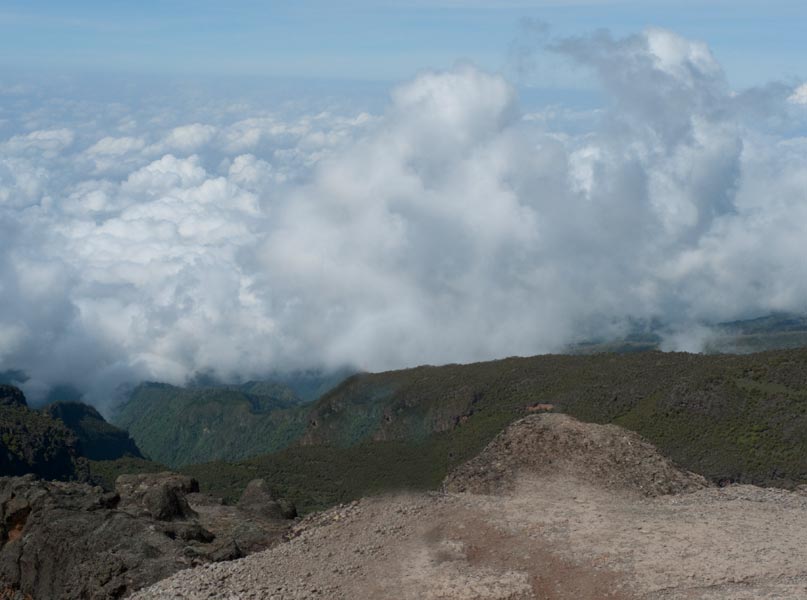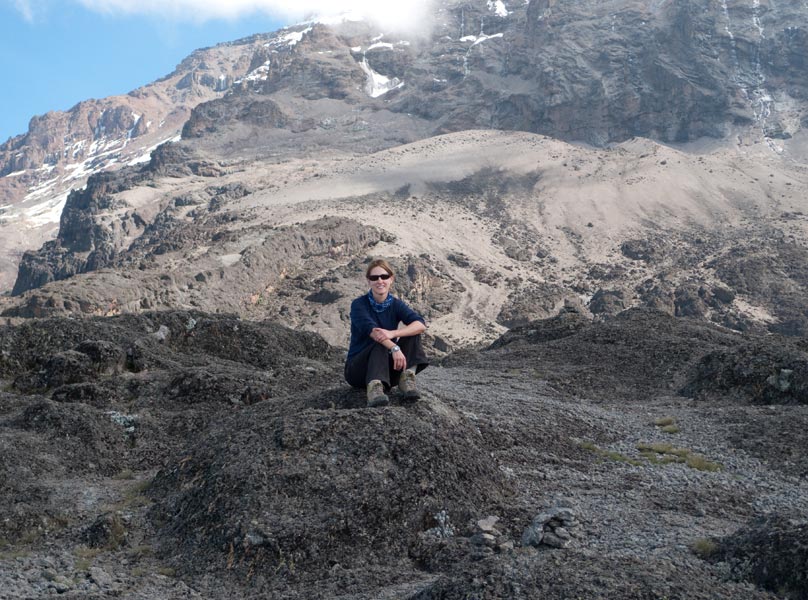 [/caption]
[caption id="attachment_616" align="alignnone" width="791" caption="Barack- always the best dressed!"]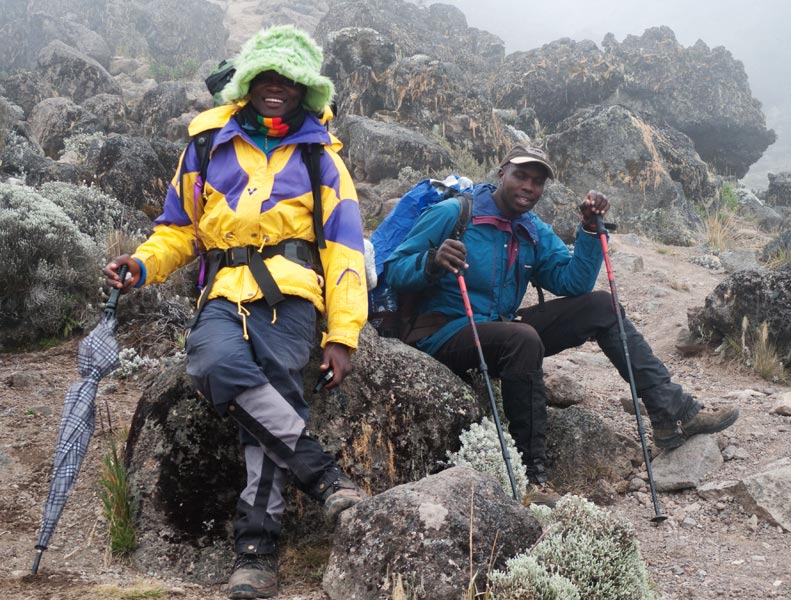 [/caption]
[caption id="attachment_579" align="alignnone" width="300" caption="A typical meal on the mountain"]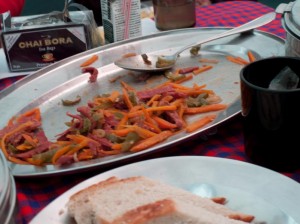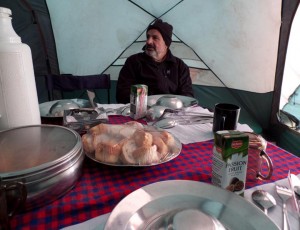 [/caption]
[caption id="attachment_585" align="alignnone" width="300" caption="We had twice daily checks of heart rate and blood oxygen"]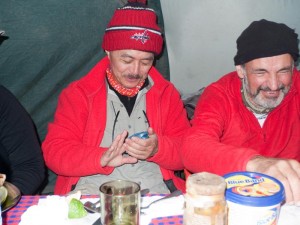 [/caption]
[caption id="attachment_588" align="alignnone" width="450" caption="Barranco Camp"]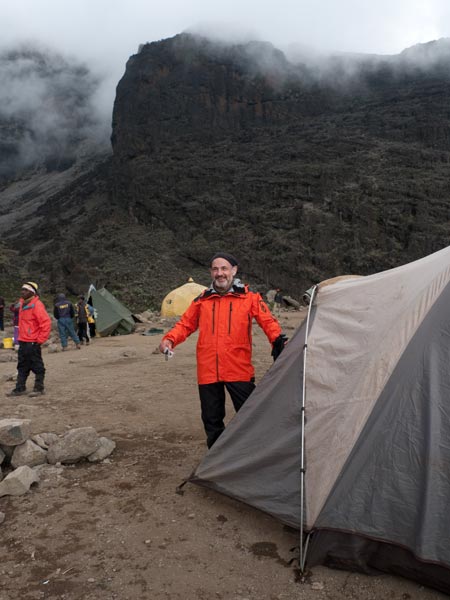 [/caption]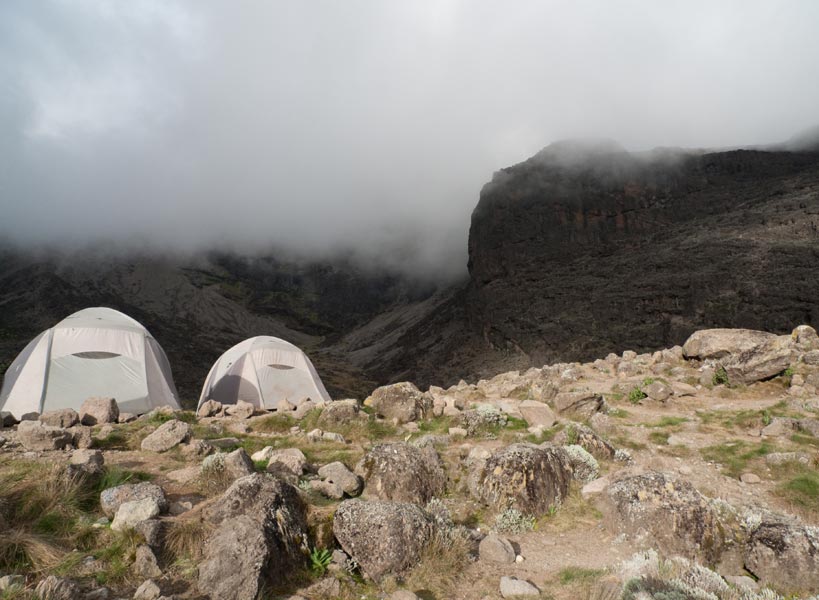 DAY 4
This was another of my favorite days. We climbed for about 4 hours: first up Barranco Wall and then down to Karanga Camp at 13,100 ft. There was virtually no increase in elevation so everyone was feeling pretty good all day long.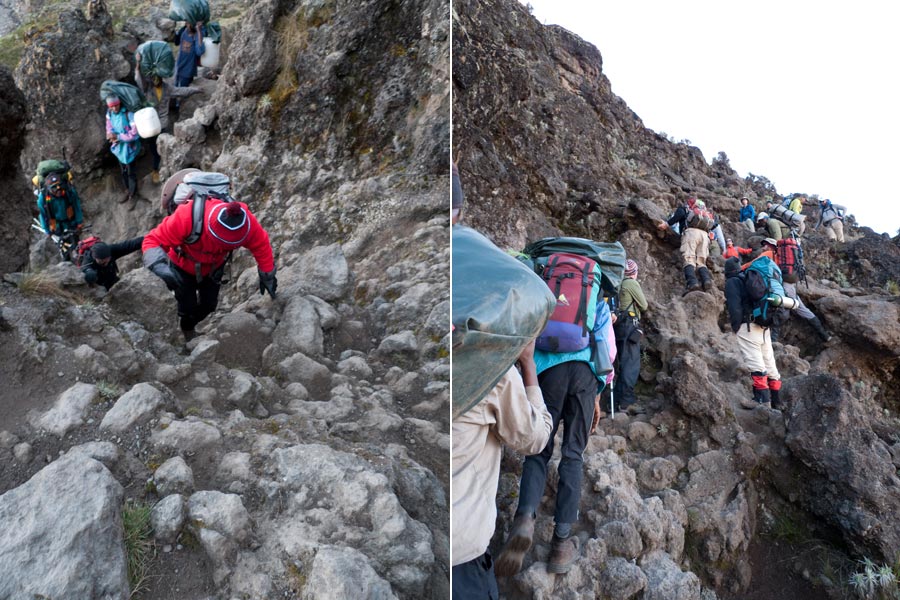 [caption id="attachment_591" align="alignnone" width="804" caption="Go Jen Go!"]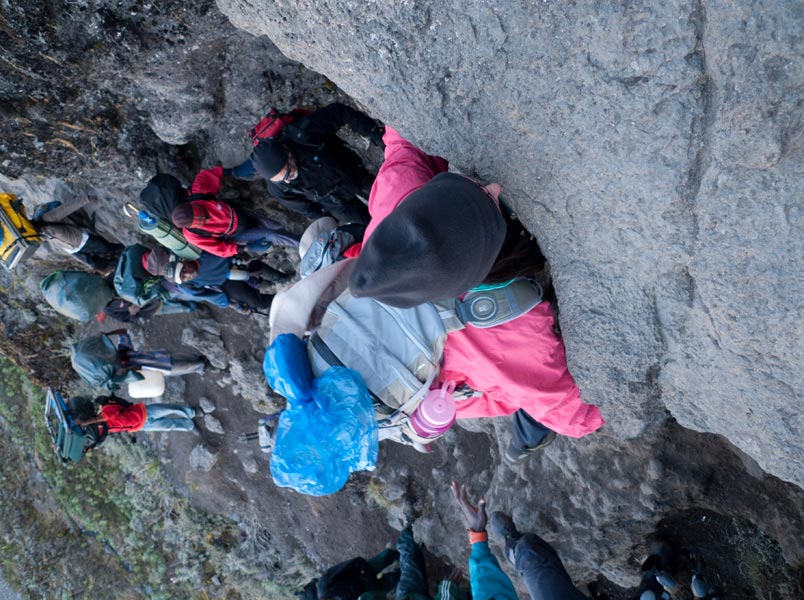 [/caption]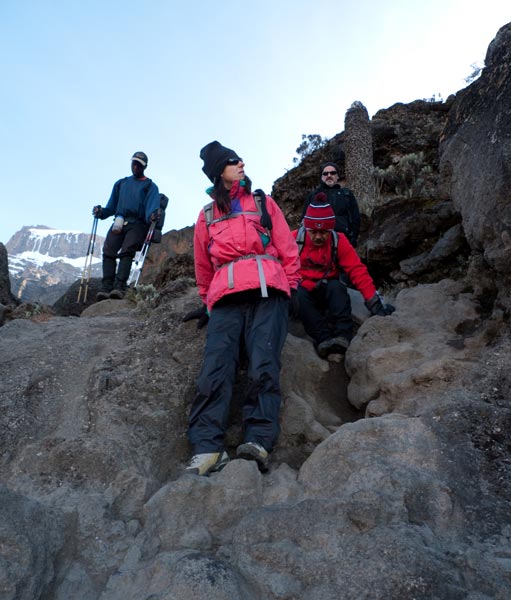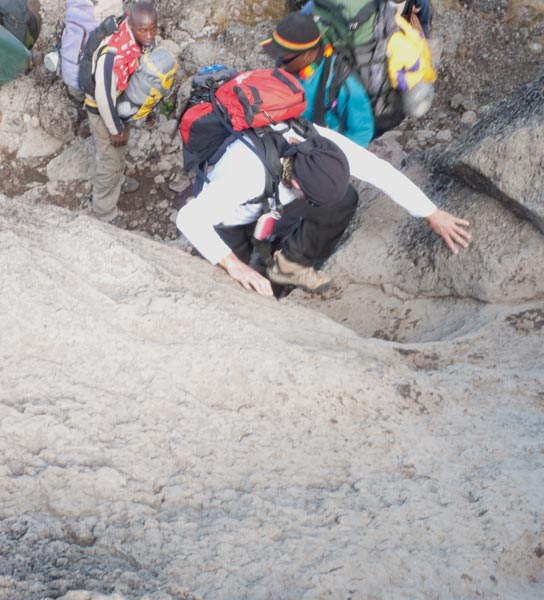 [caption id="attachment_593" align="alignnone" width="466" caption="Waterfall"]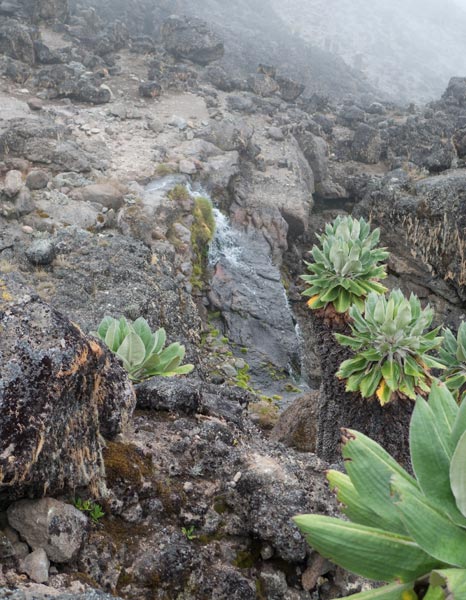 [/caption]
[caption id="attachment_595" align="alignnone" width="719" caption="From Karranga camp you can see the path of our trek to the summit- up the right side of the cliff to the top."]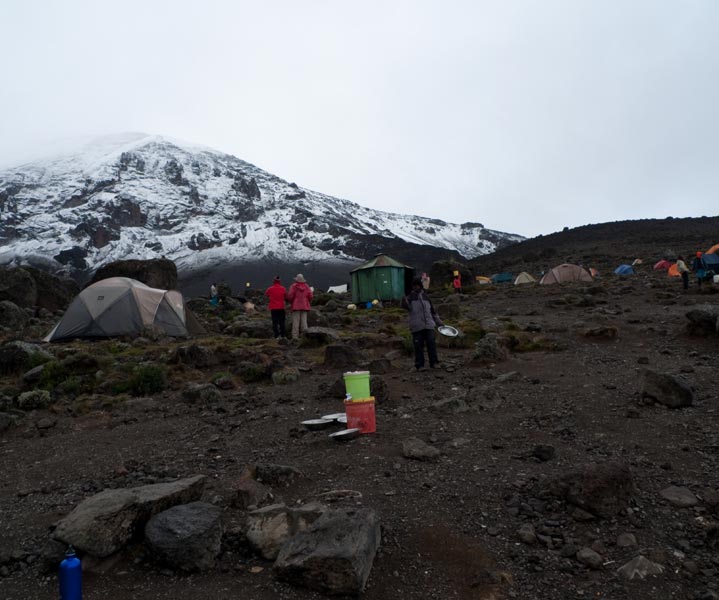 [/caption]
We got into camp in time for lunch and spent the afternoon just hanging out, drinking tea, eating popcorn, resting and organizing our things. Tomorrow would be the longest and most difficult of the journey.
[caption id="attachment_613" align="alignnone" width="450" caption="Rosanna broke her tooth and exposed the nerve. She used ear plug wax to keep it from hurting so much breathing in cold air. Tough girl!! Born in Ireland, raised in Australia, and now a new American citizen."]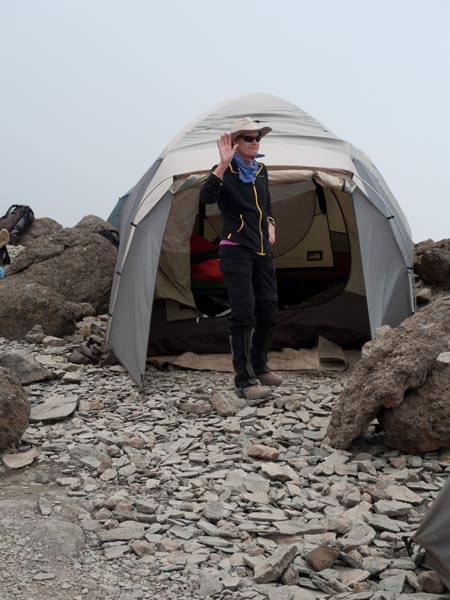 [/caption]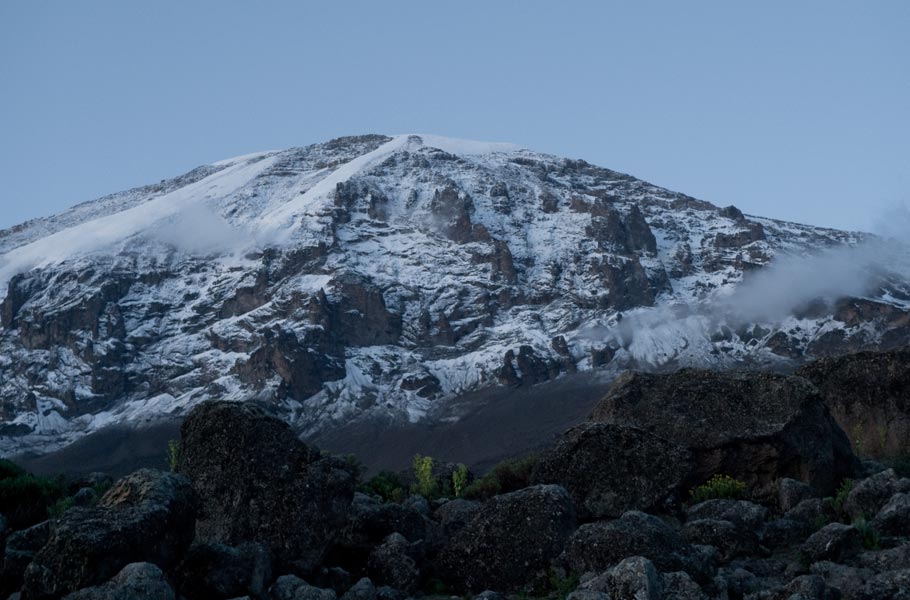 DAY 5 & 6
I put these day together because they truly run together. These are the days when the preparations fall into place to hike to the Uruhu Peak-the summit-  the top of the mountain.
It starts with 5 hours of hiking early in the morning from Karanga Camp to Barafu Camp at 15,200 ft- the highest place we will sleep. The morning hike is not particularly difficult and is interesting because the landscape becomes very barren- almost lunar.
[caption id="attachment_598" align="alignnone" width="820" caption="In the morning- ready to go."]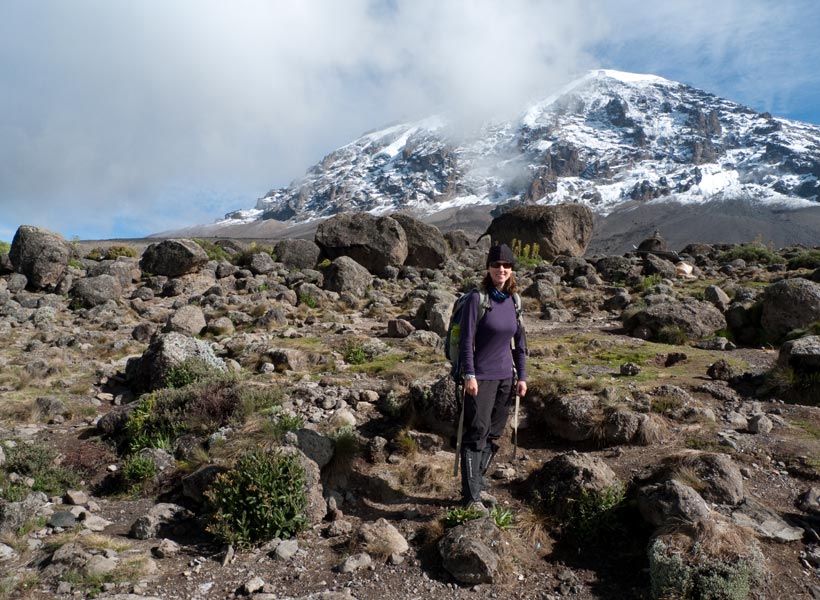 [/caption]
[caption id="attachment_600" align="alignnone" width="859" caption="So desolate!"]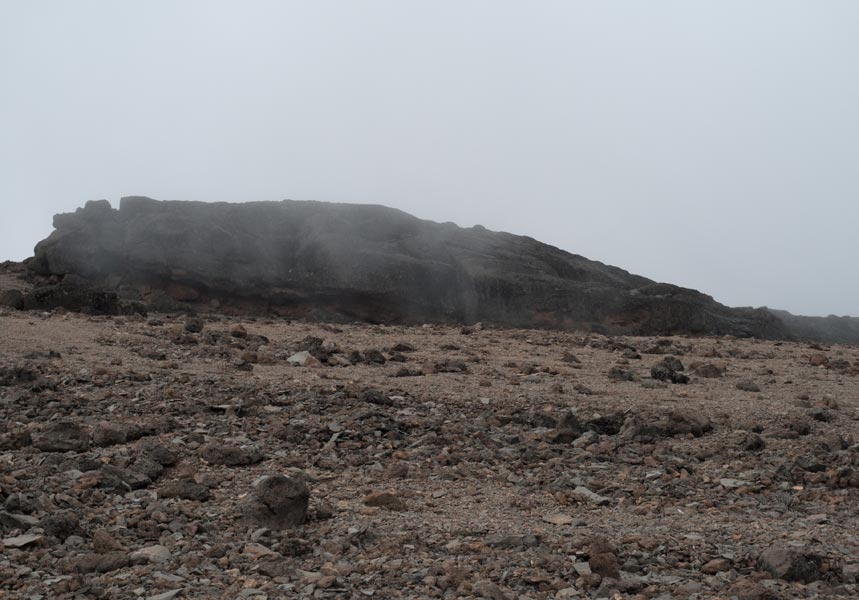 [/caption]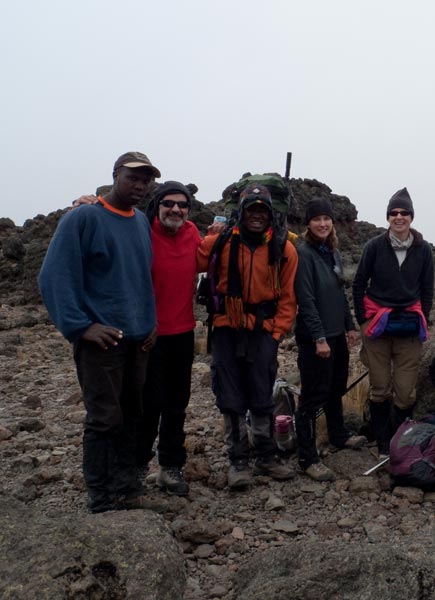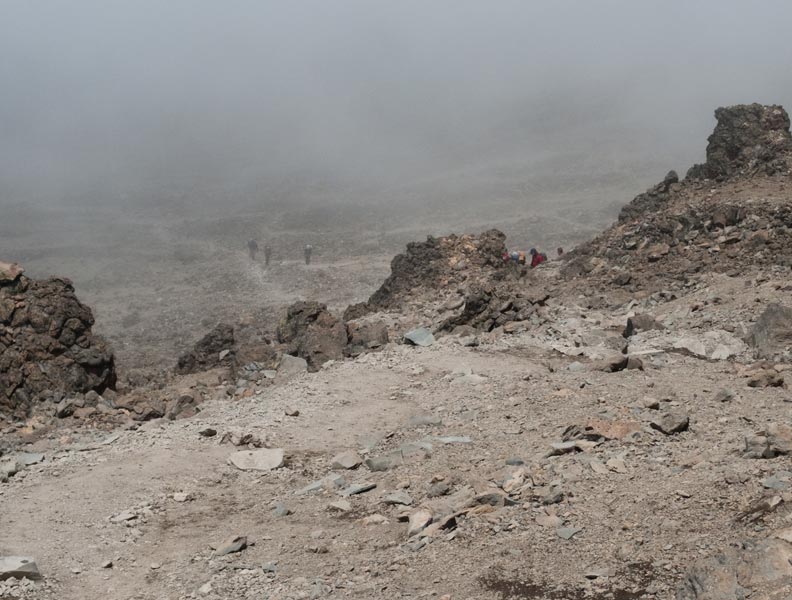 We arrive at Barafu in time for lunch. The rest of the day is very structured. I'll give you the timeline and then fill in some details.
1:30-3p: eat lunch and organize for the Summit hike
3-5:30p: attempt to nap
5:30-6:30p: eat dinner
6:30-10p: finish organizing and  attempt to nap again
10:30p:  be ready to go, eat some bread, health checks, drink a lot of water.
11:45p: head to the Summit. Hike all night using headlamps.
6:00am:  reach Stella Point (18,630 ft).
7:30am: reach Uhuru Peak (19,457ft)- finally- the top of the mountain!
7:30-9:30am: start the descent back to the camp
10-12:00 nap and pack bags
12:00-1:00 lunch
1:00- 600p: hike down to Mweka Camp for the last night on the mountain.
OK- so….  let me first just say that napping did not happen for me.    Jennifer, who could sleep her way through a monster truck show,  did not have any problems with naps.  So I watched her sleep and stressed out about the fact I was not getting any. I also stressed about the fact we were having thunder snow and sleet and our tent was about to blow over completely. But there were going to be no weather delays.
[caption id="attachment_597" align="alignnone" width="900" caption="Late afternoon storm rolling in...."]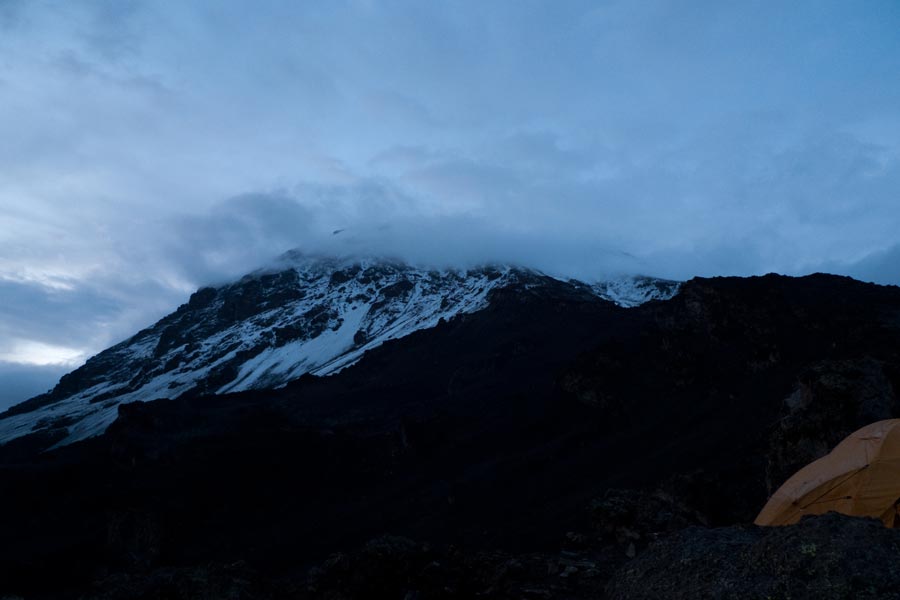 [/caption]
[caption id="attachment_603" align="alignnone" width="449" caption="Dismass ordered some porters to move Jose's tent next to ours because he was convinced I would turn the wrong way in the dark and walk off the cliff.     I guess he knew me pretty well by Day 5!"]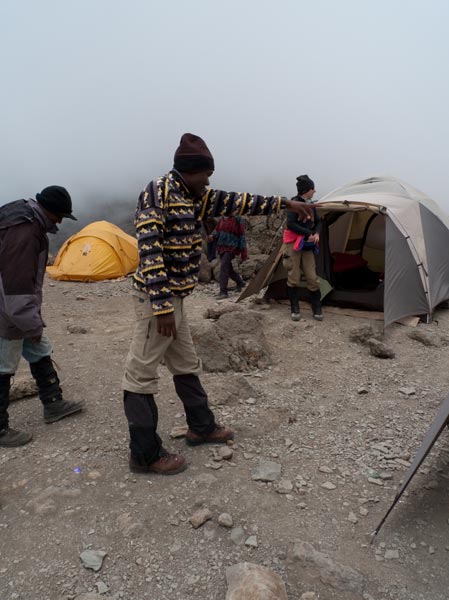 [/caption]
Now let me describe as best I can the ascent at night up to the top. I have run two marathons and can only say that it was the equivalent of running miles 20-26 over and over again for seven and a half hours.
Dismass told us the hardest part would be at the beginning- as we had to climb almost straight up a large cliff in the dark. He said that's the point where ever person is thinking he/she will not make it. So, he said, the best thing to do is to go straight through with no breaks so we can keep our rhythm.  Then we would break 5 minutes every hour.  I honestly didn't notice much a difference between the first two hours and the rest of the climb. It all seemed like it was straight up and never ending.
I decided to try to distract myself with my ipod- which I had saved for this day. I had a special playlist and I'm only slightly embarrassed to say it was headlined by Miley Cyrus' " The Climb" ( yes- it was) and also included inspirational favorites like "Reach" by Gloria Estefan, ""Higher" by Creed, and "I Gotta Feeling" by the Blackeyed Peas. So.. I think the music helped me through the first few hours before the battery ran dry.
Then I really had time to focus on the fact that someone was definitely blowing balloons up in my stomach. Stomach pain is pretty common at this altitude. And I didn't think it helped that I had fleece pants and two pairs of long underwear under my ski pants- which were none too big! But, at least I was warm.
I also started to develop a really evil headache but the deep breathing I mentioned earlier really did help this.  Did I also mention it was starting to snow heavily around this time? Yeah, it was. Big fun.
So then we get to the point where the altitude starts robbing you of every ounce of energy you have.  Here's an example. I found myself actually plotting and planning the tying of my boot. My boots were both loose and starting to rub some blisters. So I started mapping out the next break and trying to determine the best way to tie the boots with the least amount of effort. Turns out all the planning was for nothing because I tied one and felt so exhausted I couldn't get to the other one.
Dismass forced us to eat chocolate bars on the way up- twice. I'm sure that's the only time in my life I will say I had to be forced to eat chocolate, but it just really was the last thing I wanted. But, as usual, there was reason to cooperate.  We saw several people passed out along the trail on the way down because they didn't eat anything or have any source of energy on the way up.
But despite the challenges, this was an amazing night. It was grueling,  no doubt, and exhausting.
But.
I am on a mountain in Africa with each step taking me closer to the top. I never doubted for a second that night that I would make it and the thought of it was overwhelming at times. It's the realization that this is it. This is the dream and the building of a moment.
About 5 hours into the climb, Dismass and the assistants who were with us started to sing these beautiful African songs. It uplifted us and gave us new focus. And then we were there. To Stella Point. The first landmark in our trek. An hour and a half later walking along the crater in a full fledged blizzard- we reached the highest point on the mountain!
I'd always heard about the incredible sunrise and the beauty of the glaciers at the top. I'd heard it was like standing on top of the world. But…  due to the fact we had near zero visibility in heavy snow and fog… we didn't see a thing.
So.. I don't have any spectacular images from the top of the world's highest free standing mountain. But I do have the most important picture- the famous sign!
[caption id="attachment_604" align="alignnone" width="817" caption="We ALL made it!!!!!"]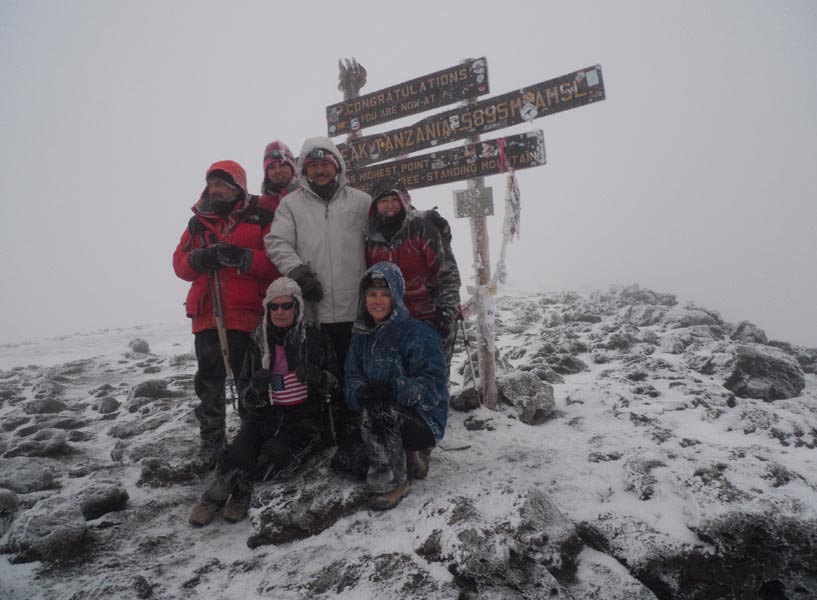 [/caption]
Coming down the mountain is as fast as ascending is slow. As you descend, you lose all signs of altitude sickness and feel better with each step. I felt badly for the people we passed who were not going to make it to the top. They'd come all this way and not made it. We were so lucky.
[caption id="attachment_605" align="alignnone" width="824" caption="A break on the way down..."]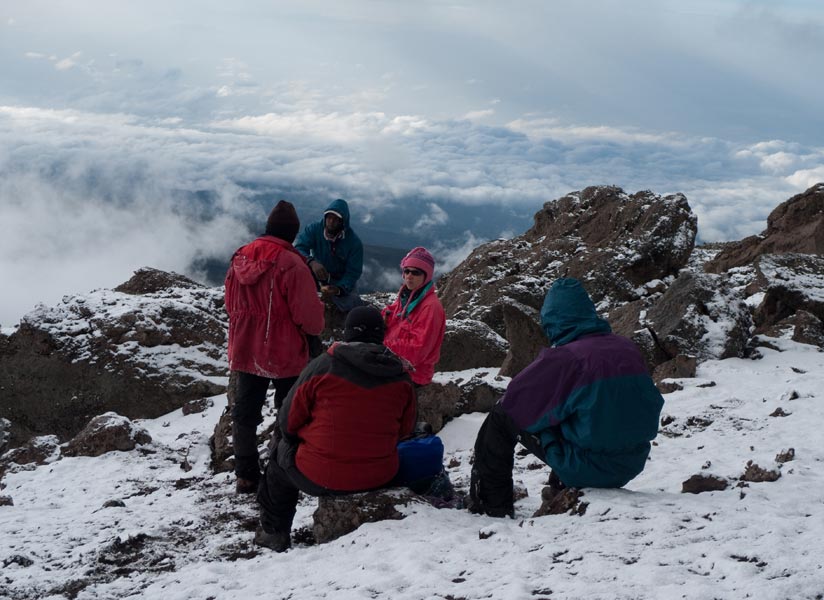 [/caption]
Later in the day, as we were heading down a dry creek bed, we encountered a flash flood.  The storms lasted about two hours and we were completely soaked. Then we hiked into a wet, dark camp with our tent and many of our belongings drenched, as well.  That was the first time I thought I was ready to get off the mountain. Also, by now my toe ( remember my hotel room injury) was causing me excruciating pain which each step down. It had become slightly infected and hit my boot every time I stepped. Ouch!
[caption id="attachment_606" align="alignnone" width="445" caption="Barack is ready for the storms. (no kidding!) He walked two hours through torrential rain with his plaid umbrella. Hilarious!"]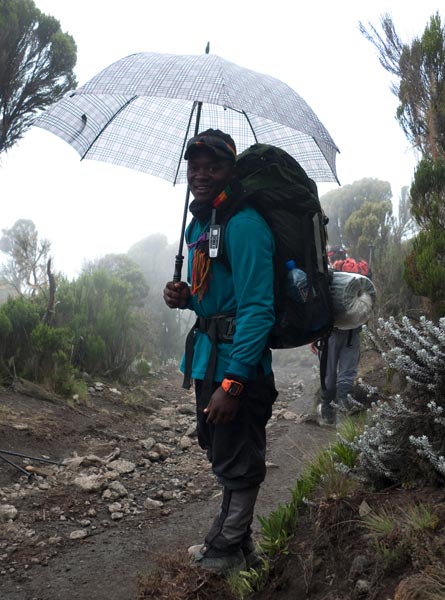 [/caption]
DAY 7
The next morning, after a farewell song by the guides and porters, we set off for our last few hours on the mountain.
After toasting our climb with some champagne at the bottom, we set off for the hotel- leaving the mountain behind.
I never saw it again.  There were opportunities over the next few days of our trip to see the mountain from the ground but it was covered in clouds. But I'll never forget the experiences of those 7 days. It was a prodigious journey- sometimes magical, sometimes overwhelming. But one of the best experiences of my life.